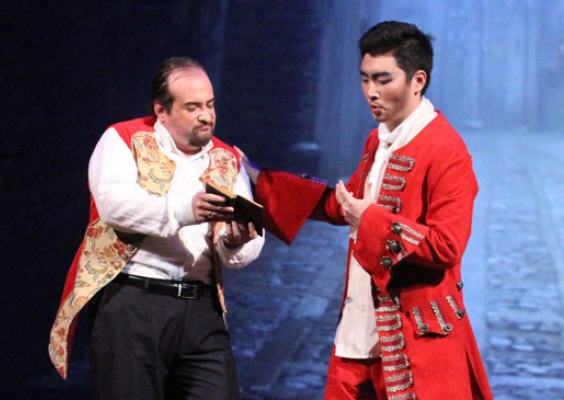 Voice competition for selected roles in LE NOZZE DI FIGARO by W.A. Mozart
AWARDS
Scholarships and debuts in the full production with orchestra of LE NOZZE DI FIGARO by Mozart
ROLES
LE NOZZE DI FIGARO: Figaro, Il Conte, Bartolo/Antonio, Basilio/Don Curzio, to be performed on July 29 and/or July 30 at the Historic Opera Theater in Narni.
Production schedule: July 13 – July 30 included.
It is mandatory to participate in the rehearsals for the whole period.
AUDITIONS
The competition will have two sessions:
First round: please submit a video or youtube link before May 25, 2016 together with the application form
Final: life audition in Rome on June 17, 2016 at Spazio85 – Ciampi Luxury Gallery, Via San Tommaso d'Aquino 85, Roma. Exact timing will be decided and notified accordingly to the number of finalists.
In the Finale, contestants will be heard in alphabetical order starting from the letter picked by the jury.
Contestants should download and fill out the application form (click here to download the Application Form) and send it, together with a receipt of payment and copy of ID to:
Narnia Arts Academy
Via Cavour 3
05100 Terni, Italy.
Scanned application forms, receipt of payment and ID can be also emailed to: narniacompetition@gmail.com before May 25, 2016.
PIECES REQUIRED
Figaro: two pieces chosen among
– "Bravo signor padrone!… Se vuol ballare signor Contino"
– "Ehi capitano a me pure la mano… Non più andrai farfallone amoroso"
– "Tutto è disposto… Aprite un po' quegl'occhi"
Conte:
– "Hai già vinta la causa!… Vedrò mentre io sospiro"
– A piece chosen by the candidate
Bartolo / Antonio:
– "Bene, io tutto farò… La vendetta, oh la vendetta!"
– A piece chosen by the candidate
Basilio / Don Curzio:
– "Quel che soffrono tanti… In quegl'anni, in cui val poco"
– A piece chosen by the candidate
RULES
Application fee: € 50.00 (non refundable)
The Finale live auditions will be open to the public, however audience members will not be allowed in the hall during the voting procedure.
Entering and exiting the concert hall during the performances is strictly prohibited.
Any kind of video or audio recording during the performances is also strictly prohibited.
Narnia Arts Academy will provide an accompanist only to those contestants who made a request on the competition application form. Contestants who wish to use Narnia Arts Academy's accompanist should send or email the piano scores of the pieces to be performed. The scores should be received by June 10.
Narnia Arts Academy will email the result of the first round to the contestants before June 5, 2016. The winners will receive a letter with the contract for the production of Le Nozze di Figaro by Mozart.
Narnia Arts Academy does not assume any risk or damages arising from the activities of the competition participants.
REQUIREMENTS
The contestants must be born or reside in Italy
The contestants must send a non edited video or youtube link of the required pieces.
PRIZES AND AWARDS
The category will have Gold, Silver and Bronze Prize. Each prize will receive the Diploma from Narnia Arts Academy International Competition. The first prizewinners will receive scholarships awards that will cover the training in Narni, lodging (hotel, B&B, apartment in double room) and meals, and the debut in the role they applied for at the Narni Opera Theater (Le nozze di Figaro with Orchestra).
Single room availability for 25 euros per day.
The jury reserves the right not to award all of the prizes.
JURY
International Jury members will be comprised of musicians and professors of various musical conservatories and universities.
Cristiana Pegoraro, Artistic director Narnia Arts Academy and Festival
Lorenzo Porzio, Principal Conductor – Orchestra Filarmonica di Roma
Alessandro Luciano, International tenor
Cesare Scarton, International Vocal Arts Program/Stage Director
Diego Procoli, International Vocal Arts Program/Coach
Andrea DelGiudice, International Vocal Arts Program Voice Faculty/Artistic Development Director
Timothy León, International Vocal Arts Program Voice Faculty/Assistant Conductor
Members of the jury are not allowed to vote for their own students.
FEES
APPLICATION FEE for Le nozze di Figaro: € 50.00
METHOD OF PAYMENT
Bank transfer to the following account:
Bank: CASSA DI RISPARMIO DI ORVIETO
Branch Address: Via Turati 25, 05100 Terni, Italy
Account Owner (Beneficiary): Narnia Arts Academy
Account Number: 2000 405
Iban: IT32 B062 2014 4060 0000 2000 405
Swift (BIC): BPBAITR1
Please specify the contestant's name in the bank transfer.
Applicants are responsible for all bank transfer fees.
APPLICATION FORM
Click here to download the Application Form
INFORMATION & CONTACTS
Narnia Arts Academy
Via Cavour 3 – 05100 Terni
Tel. 0744 403132 – 366 7228822